We have received the following end of term report from the headmistress at the school:
The second term started on 15th May with 350 pupils reporting back to school. All members of staff were back for work, and everyone has been in good health and spirits.
On 23rd May Ngombe Health Center came to vaccinate our Grade 4 girls for Human papilloma virus (HPV).
The school is in the process of opening its own examination center due to the high number of pupils that are sitting for exams at our school, and the school has been producing good Grade 7 results.
In June our pupils participated in a reading quiz and debate competition which was held at Zonal level. Two of our girls were selected to compete at the District level in July.
Also in June our pupils competed with other schools in sports on the Zonal level. The competition was held at Munali school grounds and was very motivating for all the children at the school.
We had received the 20 new desks that were made by Mr Ziwa. This has allowed all the children to have desks to sit at, and they are no longer sitting on the floor.*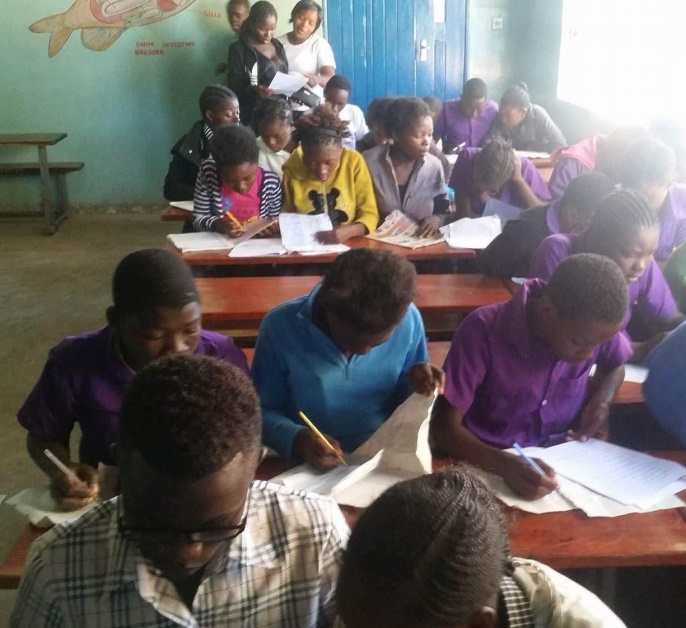 Sewing classes have also continued. They are trying to improve on making good finished products that will stand the competition on the market, but as yet they haven' been able to make many sales in the markets. The beads have been selling well and pencil cases. All machines are working well.
We haven't had many extra activities at the school this term – children have been reporting to school and teachers have been concentrating on teaching lessons.
Racheal Mudenda
*We sent £1,000 for these desks to be made.