We have had news from the orphanage where Jeannie Mulenga looks after 30 or more children who have become orphans or from very poor families. Jeannie had been ill for a while but now her health has much improved and she has set up a pre-school playgroup and is encouraging youngsters from the area around the home to come and enjoy playing games and learning English which some of Jeannie's older children are teaching them. They come in the morning have some nshima (maize porridge) and sometimes dried Kapenta fish for their dinner before going home. We send £500 per month to Jeannie for the orphanage expenses, but now they could do with extra funds.
To this end Lali who has recently returned to England arranged a Craft Fair in Wiltshire in August to raise some money. We visited and took some items for sale. Most of the goods, however, came from Zambia.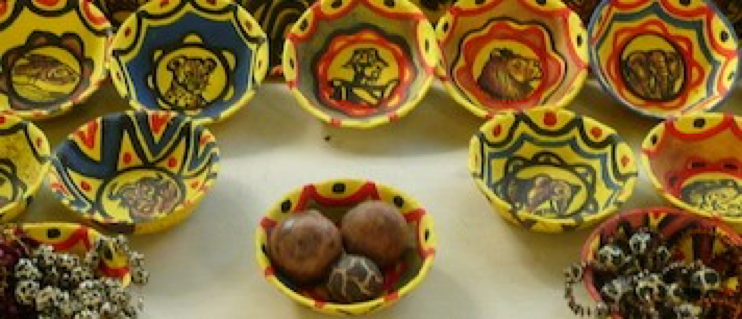 Bowls made from paper mache at the orphanage.

Bags, aprons and jewellery and craft items made at the school.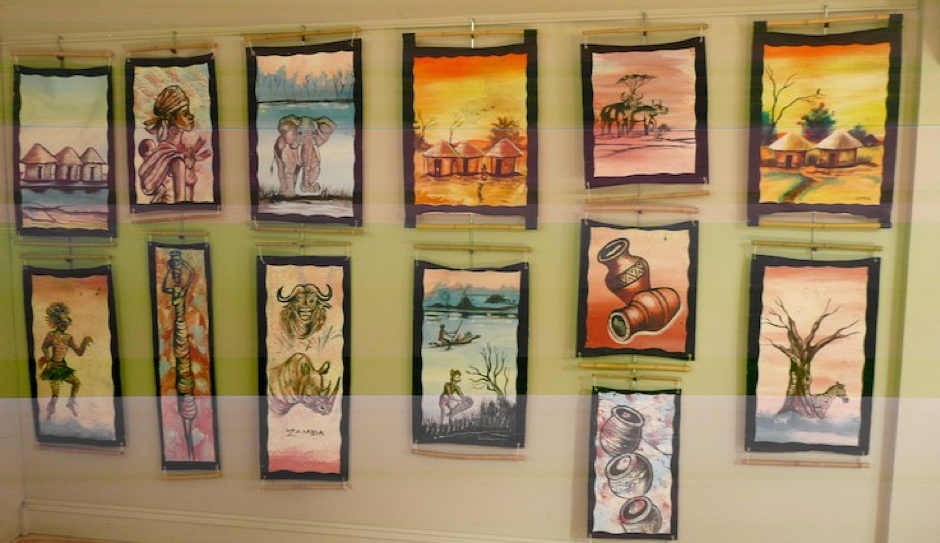 Artwork by Zambian artist, Fred Silwamba.
Almost £900 was raised which will certainly help feed the pre-school playgroup children, and we thank all who came and supported the Fair as well as all those whose work was exhibited and especially Lali for organising it.
We received news from the school at the end of the summer term.
On 5th August community health workers visited to sensitise the pupils on HIV/AIDS and gender Based Violence (GBV). Thirty pupils were present because they were targeting pupils aged between 15 and 17. They volunteered to be tested for HIV.
The Grade Sevens all sat for mock exams which were provincial, and all except ten of them passed. Those who did not manage to pass were given extra lessons in the holidays. They will all sit for their final exams in November.
The children returned to school on 11th September, and the sewing classes also resumed.
As you can see the Heal Project is helping many children and adults which is most encouraging to us. We send £3,000 per month to the school to pay the teachers and all their other expenses which, you will realise, takes some raising so thank you to all who donate to the project. If you would like to help, please click on the Donate button which will take you to our JustGiving page.
Joyce Ayles