Dr Helen Ayles with Joyce and David Ayles visited the Heal Project School, Ngombe (known as an open Community School, inspected by Zambian Education Authority, but not funded by the Zambian Government) this November where we met with Jeannie Mulenga, Principal of the Heal Project, and with the Head Mistress, Rachael who gave us a tour of the school.   We were able to visit all the classrooms and to see the children having their lessons.  Jeannie said the school was operating at full capacity and there was a waiting list for places.  However, they only take vulnerable, orphaned or children from very poor families.
At present 350 children attend the school, mostly with classes of 50 pupils.  They are able to teach up to Grade 7, equivalent to the end of Junior School in the U.K.   40 pupils had just sat the Grade 7 end of year exams and they were expecting a good pass rate.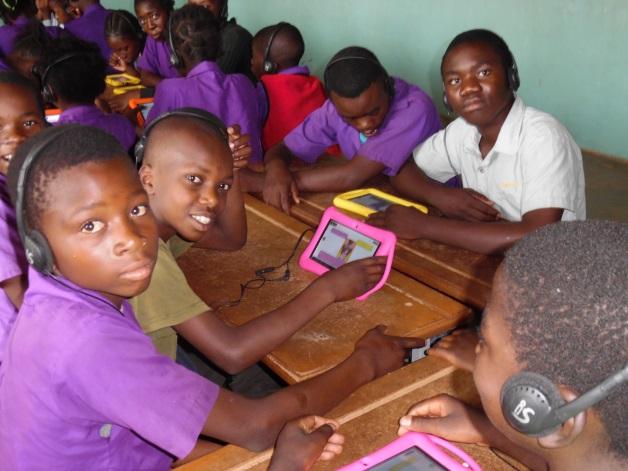 We saw the top class using the iPads provided by money received from a UK Charitable Trust in 2013.  35 of the original 36 tablets are still in use.  Their lesson was on diseases, water-borne or air-borne – most useful information to know in Africa.   In the next class down we saw the teacher using his master iPad as a projector showing pictures on to a wall on the subject of land cultivation – when and how to grow crops.  This is especially of help to older pupils as most are expected to help on the land.  Staff and pupils are finding the iPads of great help with so much interaction.   The Zambian school curriculum is changing shortly, so during the Christmas holidays all the iPads are being returned to the manufacturers for the update which we arranged while we were there.
We met t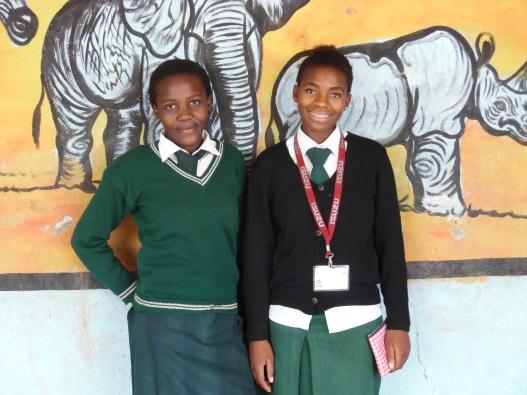 wo girls Zippora and Clarissa who told us they had started their education at the school and had now moved on to the Chamba Valley High School where they were studying for their year 12 exams and hoping in the future to train as teachers.    This we found most gratifying to think we had given them the start they needed in life and the belief they could have a worthwhile career in front of them.
Jeannie Mulenga is finding it difficult to visit the school on a regular basis, especially as she has been unwell, so during the Christmas break Helen is meeting with the teachers and PTA to discuss the way the school is to be organised in the future with more responsibility being placed on staff members, with regular reporting to us as the main donors of funds.
At present we fund 7 teachers, including those who organise sport, music, art and drama – activities during part of the day when the children are not having lessons.
During a recent storm a strong wind blew the roof off one of the classrooms, and we noted other repairs were needed to desks, the floors, etc. in other rooms, so while we were in Zambia we arranged for the work to be done, and on our return sent the necessary £2,000 to cover the costs.  We will be sent photos of the finished work in due course.
On another day we visited Jeannie Mulenga in her home which is about a 20 minute walk across country from the school.  When we purchased the land there was very little development in the area so we were able to buy a large plot.  However, many more houses are being built and new roads constructed.
Jeannie now looks after 17 children in the house, with a further 10 older boys now in their own purpose built accommodation.  These boys were originally street children who lived in a store room at the school while they were receiving some basic education.  A Dutch businessman paid the money for their building the proviso being they had to build it, under supervision!  This they have now done and 4 are carrying on working on construction of other houses nearby.
It has proved difficult to find, and fund, a woodworking teacher so now 4 boys are at a nearby Catholic mission where they are learning carpentry and joinery with the thought they can carry on using the tools we sent, and instruct others.  Another boy has completed an IT course, and another is just finishing a book-keeping course.  In the meantime they all help out with maintenance, gardening, etc.   The chicken house was empty as they had finished selling all the chicken, and it was being cleaned and disinfected ready for another batch shortly.  As you can see everyone was very happy and pleased to see us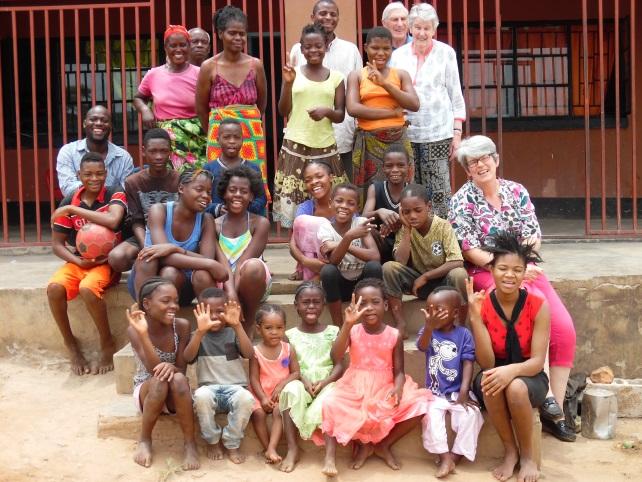 We much enjoyed our visit to the Project and were encouraged by all we saw.   However, things generally have changed in Zambia.  The price of copper has dropped and the economy has worsened so that the price of basic commodities, especially food, has doubled.  There are also electricity cuts of 8 hours every day.  We have been paying the school teachers the equivalent of £100 per month, but this really needs to be greatly increased.
At present we are sending £2,600 per month to cover the cost of the teachers, food and other essential supplies for the school and Jeannie's household, but, we need to send more.
All donations are gratefully received either online at www.justgiving.com/healproject/donate or by cheque made payable to the HEAL PROJECT.  Please contact us if you would like more information about the project or how you can help.
Joyce Ayles